Experience authentic food in the oldest Vilnius restaurant Medininkai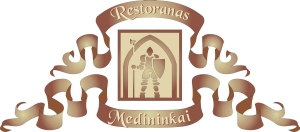 After dinning here many have stated that Medininkai is one of the best restaurants in Vilnius. Restaurant Medininkai is located right in the heart of Vilnius Old Town and has a privilege of 16th century courtyard offering it's guests a pleasure of lunching or dining outdoors in the pleasant atmosphere of summery ancient Vilnius.

Vilnius restaurant Medininkai today follows the tradition of offering exceptional international cuisine, as well as a number of Lithuanian masterpieces, first-class service in surroundings of refined elegance and impeccable hospitality. The excellent cuisine together with a high class service will leave you a memorable experience.

The restaurant in Vilnius Old Town possesses three halls to dine at, as well as summer courtyard. Each area is uniques with its colors and mood:

The White Hall – old antique furniture and buffets, decorated with a 18th century Italian ceramics. The authentic arched windows give off a fresh, cozy effect.
The Big Hall Saloon – This elegant hall's interior is decorated with frescoes painted windows, antique silver, bronze and crystal works. Fresh flowers add the finishing touches to create a perfect atmosphere to dine at.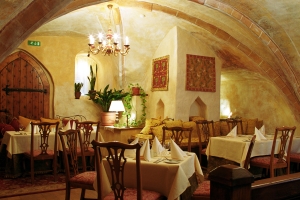 The Wine Cellar – When enjoying a glass of wine, you will feel the centuries of history, as it is one of the oldest cellars in the Capital. A small hall is available, for private events.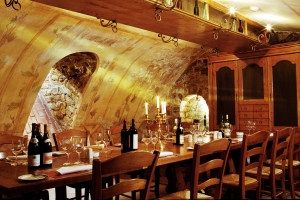 Medininkai summer courtyard is the only place in Vilnius, where you can enjoy the 18th century graffiti decorated wall.
Situated away from any main street, the courtyard is loved by the visitors who value quite Summers evenings, great food accompanied with an excellent service.


The restaurant Medininkai is ready to prove you that it is the best restaurant in Vilnius Old Town!

Restaurant working hours:
Breakfast: 7:00 - 10:00 hrs.
Breakfast on weekends: 8:00 - 11:00 hrs.
Lunch / Dinner: from 12:00 until 23:00 hrs.
Restaurant Medininkai
Aušros Vartų St. 8
LT-01303 Vilnius
Lithuania
Phone: +370 600 86491
E-mail: medininkai@medininkai.lt